Grade F
Even Trump's most avid supporters recognize his response to COVID was terrible. We now average 200,000 new cases every day. America will soon exceed 410,000 deaths from COVID. Another 250,000 may die in the next 90 days. Trump deserves a failing grade. He has blood on his hands. He has done nothing. No leadership at all.  Nothing. No mandate for masks or other safety measures.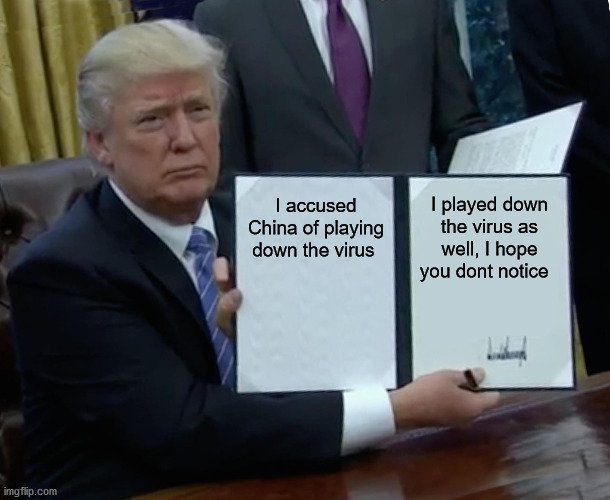 Now, he is failing the distribution of vaccines. President Donald Trump sent Republican lawmakers a sweeping package of spending cuts to consider before he leaves office, including billions in funding for vaccine distribution program involved in the Covid fight.The $27.4 billion in proposed cuts is known as a rescission request — a largely symbolic package of spending claw-backs that the White House presents to Congress.
The coronavirus vaccines roll out is disastrous especially in many Republican controlled states. Red states in the Deep South have had particularly dismal inoculation rates. In Alabama, Georgia, Mississippi and South Carolina, less than 2% of the population received a vaccine shot.  Health experts and frustrated citizens are alarmed, and scared at the incompetency. Will it get better?
These states in the South face a number of foreseeable challenges.  Poor planning caused limited vaccine supply lines. MAGA health care workers refuse to get inoculated. Poor government leadership failed to schedule the number of appointments needed.
South Carolina
Vaccine
According to data from the CDC, South Carolina received the lowest amount of doses per capita in the nation. For every 100,000 people, South Carolina received approximately 6,800 doses, according to the CDC.
As 70 and older join Phase 1A of the vaccine distribution, many citizens cannot find an appointment to get their first shot. S.C. Hospital Association CEO Thornton Kirby is worried that hospitals will cancel vaccine appointments. Why wasn't this planned better? DHEC blames the Trump Administration.
"However, the state can't fulfill the providers' request for increased vaccine allocations because there is not enough vaccine available from the federal government." 
Dr. Brannon Traxler of SCDHEC said there is a limited supply of the COVID-19 vaccine. There is nothing on the horizon to meet increased demand anytime soon. When will we get more? Will it be enough?
Testing
SCDHEC has an internal database to track COVID-19 cases. However, a software problems caused incomplete case reporting for several days. DHEC added a disclaimer to its daily case reporting webpage to publicly notice that data was known to be incomplete. The  vendor has now fixed the problem.
Software company Conduent services the South Carolina's Infectious Disease and Outbreak Network (SCION).  The majority of laboratories  report test results by electronic lab reports (ELR) to SCION. The percentage of positive tests exceeds 25 percent and has been as high as 34%.
The highest number of cases in a single day occurred on January 8 with 6,824 positive cases.  Historical updates by day are available on the county-level dashboard here. 
Nearly 85% of hospital beds are filled across the state. At least, 2,387 (25.2%) of those patients are being treated for COVID-19.  Of those, 474 patients are in ICU and 291 are on ventilators.
President-elect Joe Biden announced a Covid-19 vaccination blitz that promises mobile inoculation sites, National Guard troops and a federal push to increase production of the shots.
Please stay safe. Do the things that will protect you and your family. Stay home when you can. Wear a mask while indoors. Practice safe distancing . Wash your hands. Schedule a time for your vaccination. We can overcome this pandemic.
Let us know how we can help.