The vaccine is safe and effective. The New York Times and other media outlets are reporting the insignificance of "breakthrough infections"–infections of vaccinated people. Sure, the Delta variant increased the chances of detecting Covid in almost everyone. But if you're vaccinated, a Covid infection is rare, and hospitalization is still uncommon. For the vaccinated, Covid resembles a mild flu.
"There's been a lot of miscommunication about what the risks really are to vaccinated people, and how vaccinated people should be thinking about their lives," as Dr. Ashish Jha of Brown University told my colleague Tara Parker-Pope. (I recommend Tara's recent Q. and A. on breakthrough infections.)
That is not to say there is not a problem. South Carolina had one of its worst seven-day stretches for COVID-19 since March 2020. South Carolina had more recent cases per capita than any other state. About 2.07 million, or a little more than 48%, of the state's eligible residents are vaccinated. DHEC also reports 31 new confirmed deaths and seven probable deaths due to COVID-19.
The infection rates in the least vaccinated states are about four times as high as in the most vaccinated states: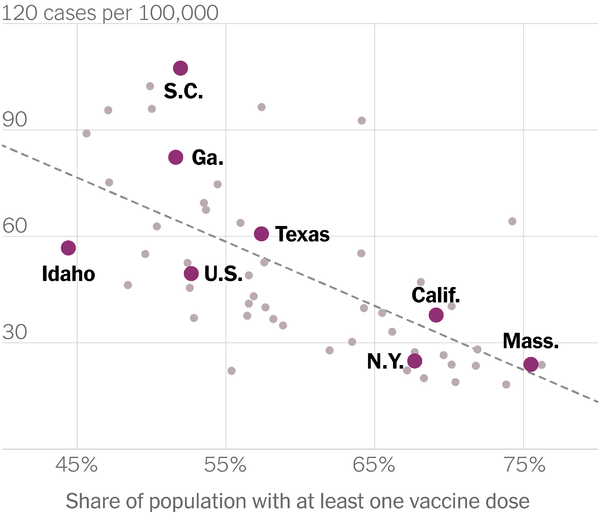 Vaccine hesitancy is a big problem. Vaccine resistance is a bigger problem. In an ABC News/Washington Post poll, nearly half of adults erroneously believe their "risk of getting sick from the coronavirus" as either moderate or high.  This is false. More than 75 percent of adults have received at least one shot. Data proves the vaccine is safe and effective.